Enjoy our California Equestrian Bed and Breakfast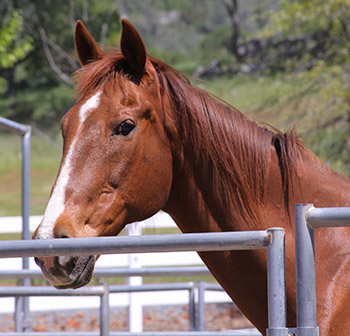 Reminiscent of the majestic Kentucky horse farms and the glory days of a bye-gone era...horses, history and hospitality await you at Enchanted April Inn in Coloma El Dorado California. We offer quests and equestrians a truly unique experience. The Inn overlooks distant pastures dotted with peacefully grazing horses roaming the white-fenced countryside. Many consider this estate the jewel of the Coloma Valley with its immaculate stables and well-clipped paddocks. Enchanted April Inn evokes memories of the grand days (and nights) and is certainly the most engaging residence in the area. Blue blooded horses spend their days luxuriating on the gently rolling foothill pastures, serenaded by meadow larks and red tail hawks. In spring the pastures are edged with fresh greenery and in fall the glory of the red oaks, maples & liquidambar weaves a spell on the surrounding countryside.
We believe you will agree that the Inn and its surrounding lands provide a magnificent backdrop for your Gold Rush Country adventure vacation. While walking the ground be sure to watch for our personalized yard signs to tell you where to go.
EQUESTRIANS WELCOME
Horses...bring your owners!!
Please contact us about local horse boarding options.
We apologize but due to liability issues created by unscrupulous lawyers driven by greed, a lawsuit crazy legal environment and a corrupt judicial system in the State of California, our insurance company no longer permits us to accommodate guests bringing their own horses on our premises. Please contact us about alternative local horse boarding options.
Gold Country Trails
Here in the heart of the Gold Country, you and your mount can easily access hundreds of miles of picturesque trails including portions of the famous Tevis Cup race. We provide riders with complimentary maps. Within a 5 - 10 minute drive, you'll find several spectacular and easy trails. Further on are local trails appealing to riders wishing for a more challenging ride. http://www.coolhorsetrails.com/
BugBrow "brow bangs" The ultimate fly control product.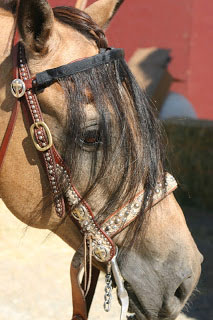 Are you tired of ugly fly masks covering up your horse's face??? Do Fly masks interfere with your horses vision? Are flies getting caught under the mask and irritating your horse (what could be worse than this)?
The BugBrow is a 100% natural attractive alternative to other fly control methods. It can be used while riding, in competitions, on trails or anywhere! The BugBrow horse hair forelock allows the horse to fight flies the way nature intended it.
This alternative to a fly mask was invented by us for the comfort and beauty of all our equine friends.
The Bugbrow comes in 3 Styles Check out our 100% natural fly mask at http://enchantedaprilinn.blogspot.com/p/bugbrow-brow-bangs.html