Enjoy the Tranquil Comforts of Enchanted April
Bed and Breakfast In Placerville
"Not Just a destination but a state of mind"
The Estate Experience
Reminiscent of the majestic Kentucky horse farms and the glory days of a bye-gone era... history and hospitality await you at Enchanted April Inn where guests are offered a truly unique experience. Many consider this estate to be the jewel of the Coloma Valley. In the distance blue blooded steeds spend their days luxuriating on the gently rolling foothill pastures, serenaded by meadow larks and red tail hawks. In spring the hills are edged with fresh greenery and in fall the glory of the red oaks, maples & liquidambar weaves a spell on the surrounding countryside. We believe you will agree that the Inn and its surrounding lands provide a magnificent backdrop for your Gold Rush Country adventure.
The Grounds & Gardens
Stroll through our gardens, catching the heady scent of roses and lavender on the wind. Lounge on the pond-side deck or under the spacious patio pergola. Spend an evening on the porch swing or sitting on our old-fashioned rocking chairs watching the glowing sunset. No matter what spot you choose for relaxation, you will enjoy the beauty of this gorgeous country estate.

Check out our beautiful video!
---
Outdoor Movie Nights
On warm summer evenings guests can enjoy an outdoor movie on the patio. We have a great selection of classic films to choose from, or guests can bring their own movie. Movies begin at 7:30 pm. Free popcorn is served.
Coloma Valley Retreats
At Enchanted April Inn you can spend a quiet days exploring your inner life and venturing into your wild interior landscape amidst the scenic beauty of our foothills. If you are you searching for healing and transformation and you need a "spiritual spa" we have much to offer you. Please see our current offerings at: http://enchantedaprilinn.blogspot.com/p/like-water-for-soulretreats-at-inn.html
Your Hostess – Elke von Schlosser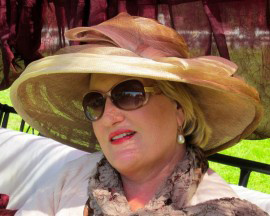 Enchanted April Inn is a lifelong dream born out of a desire to welcome and entertain visitors. Since childhood, Baroness Elke von Schlosser, the owner and proprietress of Enchanted April Inn, had a dream of living in a farmhouse, and often sketched pictures of what her ideal farmhouse would look like.Then one night, while looking on the Internet, she found it. "I instantly knew", she recalls. "There's my house". "But where", she asked herself, "is Pilot Hill?" "When I drove up to the entrance, I saw that it was even more beautiful than I thought it would be." Since that time she has turned her dream into a reality by providing travelers with a place to rest from the stresses of daily life, and to enjoy the beauty of the historic gold rush country in elegant luxury.
A Baroness whose family originated in Transylvania, Elke was born here and grew up in California. She has always loved the Gold Country and thinks it's the most beautiful part of the state. "Looking for gold, it's the American dream", says the Baroness, whose parents sought their fortune here after emigrating from Europe after WWII. "There is something about the ruggedness here that I can relate to, something about the energy and the echoes of what occurred here. The hopes and dreams still resonate in the foothills today...some got rich, some lost everything."

Elke named the Inn Enchanted April after the well-loved book & movie, because she says "It's a magical healing place for restorative peace. People can sense there's something here out of the ordinary. The energy is very restful." When asked why she opens up her home to strangers she replies; "It's just too beautiful not to share with others."
---
Policies at Enchanted April Inn
Check-in
3:00 pm to 9:00 pm. If you arrive before 3:00 pm we may not be on site. Guests arriving after 9pm will have instructions for self-check-in left at the front door.
Check-Out
11:00 am.
Children
Due to the nature of our Inn as an adult retreat, parents with children under 12 are usually referred to other Inns in the area that are better suited for small children.
Smoking
Permitted outdoors in designated areas only.
Rooms
4 rooms each accommodate a maximum of 2 persons. All rooms are on the second floor. We are sorry but we don't have facilities for babies and toddlers. Fire codes allow a maximum of 2 persons per room.
Handicapped Access
Our Inn is not suitable for handicapped persons since all guest rooms are on the 2nd floor.
Inn Access
Guests are free to come and go as they please once they have checked in, keeping in mind that early or late activities should be quiet enough not to disturb other guests.
Cancellations
We are a small inn and your cancellation hurts our business! In the unfortunate circumstance that you have to cancel your planned stay with us, please let us know as soon as possible
We are a small inn with limited rooms and if you cancel and we cannot re-book your room it means lost revenue for us. In the unfortunate circumstance that you have to cancel your stay with us a 14-day notice is required.
If we cannot re-book the room(s) you will be responsible for payment in full.
Hospitality Awaits You At Enchanted April Bed and Breakfast
Near Coloma California
Check Out Our Virtual Tour,
click here

Complimentary Items We offer:

Free wireless Internet

Ample parking

Complimentary toiletries

Cable TV-DVD
Selection of movies in our gathering room

Outdoor barbeque kitchen

10 acres with beautiful gardens/ sitting areas

Reflecting pond

Couples sauna

Freshly brewed coffee, tea, bottled spring water & other beverages available 24/7

Access to our conference room with:
Microwave

Full sized refrigerator/freezer

Local maps

Picnic supplies and more...

No Hidden Fees at Enchanted April Inn
We care about your lodging experience and unlike most hotels WE NEVER NEVER CHARGE ANY HIDDEN FEES for snacks & beverages, energy surcharge fee's, grounds keeping fee's, internet fee's, luggage handling or holding fee's, parking fees, resort fee's, telephone fee's, extra towels fee's (etc. etc.)
Hear What Others Have to Say About Enchanted April Inn
Excerpts from the newspaper Mtn. Democrat article: "Bed and breakfast is an enchanting oasis"
Gracing a hillside with a grand view on Salmon Falls Road halfway between El Dorado Hills and Pilot Hill, Enchanted April Inn feels miles and hours away from the pace of daily life. And that is intentional. A place to relax.
Unlike many B&BS that are refurbished older homes or hotels, Enchanted April Inn is relatively new. The entry room contains all the information about what to do and where to eat in the area. From the entry, one enters the dining room to the right and a lovely small parlor to the left. The focal point of the dining room is a circular three-tiered ceiling inset. The heart of Enchanted April Inn is the gathering room, next to the parlor. With a fireplace, comfortable furniture, cable television and paintings by Elke of her horses and dog, a Boston terrier named Rowdy, it is the perfect place to relax and visit.
The second floor contains four guest rooms, two with private bathrooms, and Elke's personal apartment.
An attached meeting room is fitting for small conferences, seminars, workshops, arts and crafts, get-togethers and retreats. A beautiful outdoor area with a reflecting pool and gardens is the preferred place for enjoying breakfast in nice weather, which is most of the time. With an outdoor kitchen, guests can make their own dinners after visiting local markets and wineries.
There was no landscaping when Elke bought the property, so she took advantage of her family business background to add to the beauty of the setting. Besides a sloped garden in front planted with flowers, she has extensive lavender plantings, an olive garden and a vineyard with several varieties of red grapes.
Enchanted April Inn has wireless Internet and cell phone reception.
From Enchanted April Inn, guests can enjoy hundreds of miles of equestrian, bicycle and hiking trails, premium wineries, Marshall Gold Discovery State Historic Park, whitewater rafting, Red Hawk Casino and shopping in El Dorado County. Come experience the magic of Enchanted April Inn, invites Elke.
Roberta Long, Mtn. Democrat correspondent