Enjoy Handcrafted Breakfasts
at Enchanted April Bed and Breakfast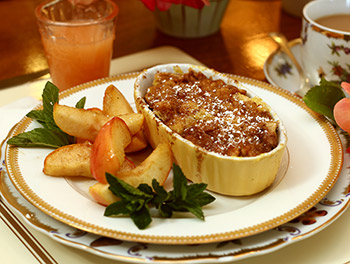 Choose from Two Delightful Options

Guests may enjoy breakfast in our sunny dining room, our roomy gathering room and weather permitting in one of the exquisite garden settings; under the rose covered arbor or shady gazebo, on the sunny front porch or pond-side on the boat deck. Adventurous guests can paddle their breakfast to our very own island, and sip steamy cups of coffee while being serenaded by the cacophony of gentle creatures that inhabit our spring-fed pond.

Option 1: Enjoy our Lite Continental Breakfast – included in your room rate. This fresh and simple morning offering will get you started on your relaxing or adventurous day in the Gold Rush Country. Chilled juice, freshly brewed coffee or tea, eggs, yogurt, fruit andscrumptious home-made muffins begin your day. For those who wish to enjoy hearty local flavor at our nearby breakfast café we give you a 10% off coupon! Freshly brewed coffee & tea are always available 24/7.

Option 2: On selected mornings let us spoil you with our GRANDE BREAKFAST– additional charges apply. The menu varies seasonally and must be ordered in at least 24 hours in advance. Served at 9am. Depending on the "humeur du chef" (mood of the chef) we might serve you an unforgettable signature dish like our:
Extraordinarily delicious Alpine Morning Cheesy Baked Omelet

"Like a morning hug" Cinnamon Breakfast Tartlet

"Fit for Royalty" British Style Coddled Eggs (the way HRH Queen E. likes them!)

Savory farm-style quiche's like our elegant Asparagus-Mushroom Crust-less Quiche, classic
Quiche Lorraine or decadent Swiss & Crab Quiche just to name a few!

Light and delicate egg creations like Frittata Primavera, Cheddar-Broccoli Frittata or
Smoked Salmon Frittata...

Showstopper Ham & Egg Tarts

Apple-cinnamon French Toast or Almond-crusted French Toast with berries

Ham and Gruyère Waffle Tartines or Buckwheat Crepes with Sautéed Apples and Gruyère Cheese

Fresh California Style Huevos Rancheros

Our own version of baked pancakes we like to call "Wake up and smell the roses 'Breakfast Bouquet' "!
And many more of our hand-picked, home-made, can't find anywhere else signature specialties designed to please...
Delicious Dining in Coloma Lotus County
Only Minutes Away
LOCAL DINING - There are numerous restaurants in our area. These are our favorites!
Please ask us for additional recommendations.
Hindquarter House – Pilot Hill. Family style dining. (530) 885-8058 www.hindquarterhouse.com .
Cork & Fork – Cool. Southern style Barbeque. (530) 889-1195 www.coolfork.com
Sierra Nevada House – Coloma. Live music on summer weekends. (530) 626-8096 www.sierranevadahouse.com
Café' Mahjaic - Lotus. New California cuisine. (530) 622-9587 www.cafemahjaic.com.
Picnics – We have plates, cups, glasses, napkins utensils BBQ & microwave if you want to picnic. We have a nice grocery store in Cool about 10 minutes from the Inn, where you can get deli items & picnic supplies.